They go by many names: "Office Pods", "Room in a Room", "Phone Booths" and many more stylized names. They are the latest trend in office design and are proving to be as functional as they are aesthetically pleasing. They provide small quite private workspaces for individuals or groups and come in many different shapes, sizes, and features.
The office pod trend came on the scene so quickly that manufacturers rushed to meet the demand. Not many of them having time to consider the potential hazards these functional workspaces could produce. Underwriter Laboratories in an article entitled "The Unseen Hazards of Office Pods" said that: "These prefabricated rooms —also called pods— and the smaller versions—booths— introduce new hazards that must be considered… Many of these products include integrated power, charging and electronics. If a fire starts within the room or pod, it either needs to trigger the building sprinkler and alarm system or include its own fire suppression system."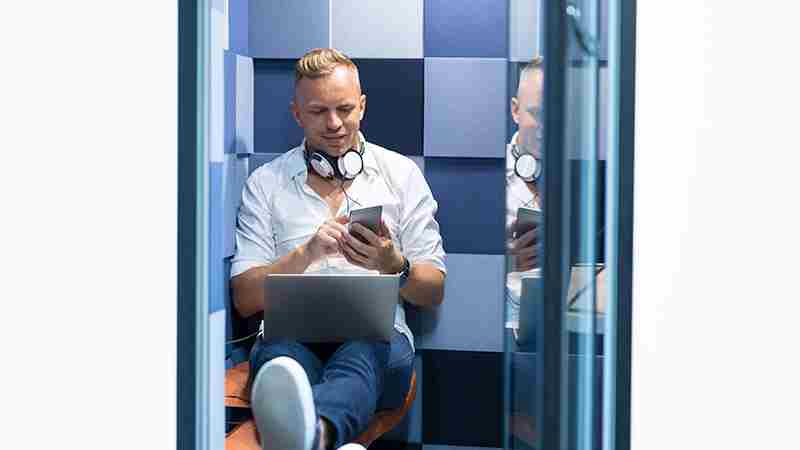 Cease Fire is experienced in working with pod manufacturers so that they can deliver a full all in one system. One of the great advantages of office pods is that most of them are factory-built and made to be quickly installed. The option to integrate pods with existing sprinkler and alarm systems greatly reduces the advantages it has in flexibility and speed of installation. Cease Fire's modular fire suppression units have restored the advantages lost since there is no longer a need to integrate with existing sprinkler and alarm systems.
Unlike traditional fire suppression methods, Cease Fire's unique fire suppression units are completely self-contained and pre-engineered, giving complete protection without the necessity of an existing water supply. In addition, our CFF-800 units require no electricity for operation which greatly simplifies integration into existing pod designs.
Cease Fire's unique line of patented, overhead fire extinguisher units are rated to quickly and efficiently extinguish class A, B, and C fires. During the event of a fire they flood the protected area with a blend of DuPont's FE-227 gas and our own proprietary ABC powder. In a matter of four to five seconds, the fire is completely extinguished. After extinguishment, the fire suppressant agents revert to non-toxic gas and powder, and are completely safe for easy clean-up of the area.
The CFF series offers gentle protection even for sensitive equipment and technology. It protects against fire damage without causing water damage. It is also quick and simple to clean after the event of a fire. Generally, a simple vacuuming and possibly compressed air is all you need.
Interested in integrating fire suppression into existing pods or pod designs? Reach out to Cease Fire at 1-(888)-232-7334.