Description – Discover how different types of fire suppression systems protect businesses against fire and which type is best for your commercial space.
Fire suppression systems have been saving lives and protecting assets like industrial equipment, financial records, historical sites, server rooms, and more for ages. Some use gaseous suppression agents to prevent fire instantly and mitigate damage significantly.
When it comes to industrial fire suppression systems, there is no one-size-fits-all as they use various kinds of gases to suppress the fire, including:
Clean Agent Gas
Carbon Dioxide (CO2)
Inert Gases
Halon
You might be wondering; what type of fire suppression system is perfect for your premises? Below, we will shed light on each different type of system to help you gain a better understanding of the options.
Types of Fire Suppression Systems
Clean Agents
Clean agent fire suppression systems may use different types of gases. Two examples of these gasses are HFC-227ea (FM-200) and FK-5-1-12 (Novek 1230).
One great advantage of clean agents is that they will not damage any delicate instruments or electrical components. Thus they are considered an effective solution for preventing fire near irreplaceable assets like servers, computers, and other valuable equipment.
Another important advantage is that they can be safely used in occupied spaces. While some systems require a network of piping and nozzles, more modern designs feature modular units for ease of installation.
Cylinder sizes can be selected based on the volume of the room or area being protected. The amount of agent needed or (agent poundage) can also be tailored for a more precise fit.
Carbon Dioxide Fire Suppression System
Carbon dioxide fire suppression systems suppress fire by reducing the oxygen levels in the given space. It goes without saying the dangers carbon dioxide posses to life in the threat of suffocation.
Ideally this kind of system is used in areas like cabinets, data or harmful materials storage areas, and other compartments inaccessible by employees, customers, or even animals.
Since carbon dioxide can be stored at extremely low temperatures, this gas is not recommended for shielding electronic devices against fire due to the risk of thermal shock. When discharged, CO2 can freeze electronic components, leading to irreversible damage and thermal shock.
Thus, clean agent fire suppression systems might be a better choice for protecting electronic equipment.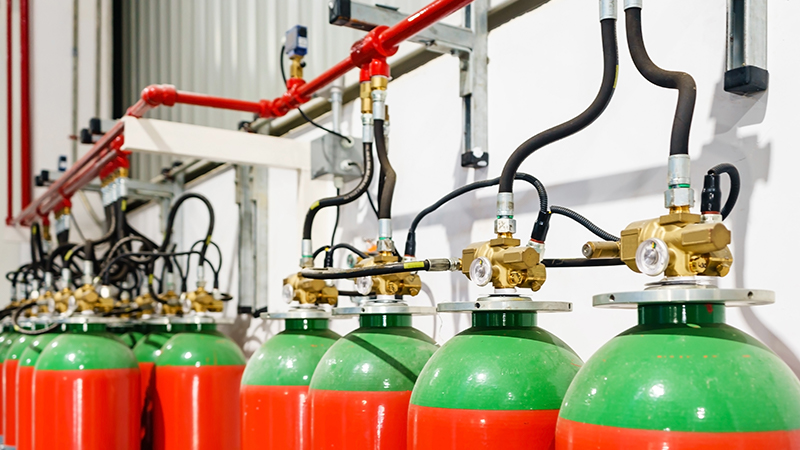 Inert Gas Fire Suppression System
Inert gas fire suppression systems have three types of gases, including inergen, aragonite, and nitrogen.
These gases suppress fire by removing oxygen, but not to the point that they pose a suffocation risk. They reduce the oxygen level to an extent where combustion can't occur.
Thus, inert gas fire suppression systems might be used in occupied areas and are safe for people, electronic equipment, and the environment.
So what's the difference between clean agents and inert gases? Clean agents are stored as a liquid or compressed gas in small containers and therefore occupy less space. Whereas inert gases flow through pipes and can be stored far from the source of the fire.
The methods of distribution are important considerations to bear in mind while designing fire suppression systems for a room or building.
Halon Fire Suppression System
Halon fire suppression systems ruled for years because they could be used in areas like museums, data centers, libraries, IT rooms, and surgical suites. However, the big drawback to halon gas was found in that it was not only harmful to humans, but also in the fact that it depleted the ozone layer.
This resulted in a ban of the gas in 1989 by the Montreal Protocol. However you can still find some halon fire suppression systems in use today. These systems are closely monitored and properly maintained and generally are only used in certain applications.
Any fire suppression systems manufactured within the last 15 years are very unlikely to contain halon gas as a result of the ban.
Final Words
We hope this information is helpful when deciding the best fire suppression system for your commercial space.
If you are considering one or more of these options, feel free contact Cease Fire at 1- (888)-232-7334 for a free no obligation quote. We would be happy to help you better understand your options, the considerations needed (like fire safety codes), and how these could apply to the spaces and assets you need to protect.